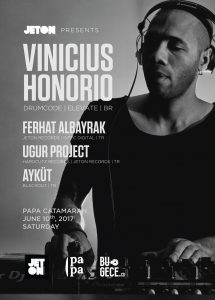 Jeton Records proudly presents
Vinicius Honorio (Drumcode, Elevate)
Ferhat Albayrak (Jeton Records, Intec Digital)
Ugur Project (Jeton Records, HardCutz records)
Ayküt (Blackout)
One of the rising star of the new breed, Drumcode Newest Star, creator of The Amazing Chart Topper "Walking Through Shadows" EP, Vinicius Honorio makes his Istanbul debut in an unique location, in a very secret location to be announced on the event's day.
During the latter half of 2016 and into 2017, his tracks would become a staple of his sets and heard by millions around the world through his Drumcode Live radio show. 'Through The Darkness' is a masterclass in darkened techno grooves, with each one of the four tracks managing to show off Honorio's skill as a producer and just why he is firing on all cylinders. The release garnered the support of support from artists such as Len Faki, Laurent Garnier and Hot Since 82 amongst others and became the best-selling release on Beatport during the week of its release.
Hot on the heels of fulfilling his dream and accompanied by a Drumcode catalogue number tattoo, it seems there are no signs of slowing down for Honorio as he continues to push forward with work in the studio and on the road. Having already played across 5 continents, he has a tour diary that reads like pilot's passport and with countless appearances at leading London clubbing institution Egg, we can expect to see a lot more from Honorio not only in London, but across the planet.
Presented by Jeton Records
Supported by Ferhat Albayrak, Ugur Project, Ayküt
Facebook Event Pages
https://www.facebook.com/pg/jetonrecords/events/
Tickets
https://bugece.co/events/jeton-records-presents-vinicius-honorio-drumcode-06-10-17