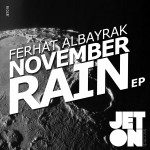 The seventy eighth release of Jeton Records, originally based in Istanbul and with a branch in Berlin, owned and managed by Turkish Techno Player Ferhat Albayrak, presents November Rain EP.
Name Track of the EP, November Rain is a melancholic track a la Ferhat Style. Unhappy melody and chords are the main elements of the work, and very bold kick+subbass combination is always a must in Ferhat's tracks. Heavily automated Fxs and drums change the overall ambience of the track frequently and no big drop or rise available here despite always does is Albayrak's works.
Return of Subsdance is again a track cannot be felt or listened without a subwoofer. Almost the main melody works under 100 hz so we are sorry if you check the track with computer speakers you will miss at least half of it. Even though is not a A-Side track, what we need in club is below 150 hz so make sure that this track could be a woofer favourite in your big room experience.
Ferhat Albayrak – November Rain EP is a 2 tracker with style and so much bass. Enjoy !
FEEDBACKS
Axel Karakasis – Great Tracks, thanks!!
Bageera – Quality shizzle, will play. Thanks
Brendon Collins [Tulipa Recording] – This is huge.
Chris Rusu – Return to substance for me thanks.
Daryl Stay – Return of Substance has a nice groove.
Eddie Halliwell – Downloading for Eddie
Gabriel Ben – cool tune
Mark Whitehouse – Big tracks from the boss.
Paco Osuna – Will try thanks
Phil Soren – Thx for promo
Richie Hawtin – downloaded for r hawtin
Romanolito – full support for this ep,november rain for me,good track.