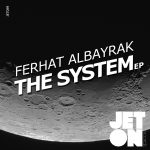 The eighty-nineth release of Jeton Records, originally based in Istanbul and with a branch in Berlin, owned and managed by Turkish Techno Player Ferhat Albayrak, presents The System EP.
Name Track of the EP, The System has been road-tested for almost 6 months in the clubs and the reactions from the crowd was amazing.
The Track combines a very simple bass-line and percussion work with a dark "The System" vocal. While an off-beat kick generates a bass-hook, very well formed drops and highs make the track suitable for all kind of usage from an opener to peak timer.
Second Track Holy Moly could be decribed as a happy track in terms of Techno. A different sound of bass is the hook of the track and sub-movements take the track groove and move. Not a track that you used to figure-out in the stores right now in Techno Genre for sure.
Ferhat Albayrak – The System EP features multi-purpose tracks for different size of venues. Enjoy !
FEEDBACKS
Alexander Filimonov [Kiss FM Ukraine] – Nice release, thanks!
Censer – Great suff! Thank you for promo)
Dean Facer – Loving 'The System'
Drumcomplex – The System is a big banger…support
Gforty – The System for me, great tune! Thanks
Luigi Madonna – Great music, thx
Mr.Bizz – nice tracks!!thanks
Paco Osuna – Will try thanks
Rafa Barrios – 2 greats tracks!
Richie Hawtin – downloaded for r hawtin
Roman Finansi – Nice tracks!!
Romanolito – The System For Me,Thank You.
The Reactivitz – The System is cool!
Tomy De Clerque – The system is great … will play