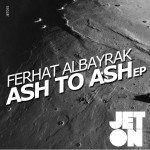 The fifty fifth release of Jeton Records, originally based in Istanbul and with a branch in Berlin, owned and managed by Turkish Techno Player Ferhat Albayrak, presents Ash to Ash EP.
The Name Track of the EP, Ash to Ash is a New School Techno Track from A to Z. Always bottom heavy, white-noises all around, distorted and saturated synth stab, blade sharp snares and and filter-usage maniac. This is how we call New School Techno in 2014.
Blazed Mozzie could be described as an experimental track by judging its main FX, surrounding all over the track, but it is actually not if you consider also other elements like traffic, kick+bass and of course all the drum elements. Having a beautiful drop melody takes the track to an other dimension but It comes back within the drop.
Ferhat Albayrak – Ash to Ash EP could be a good tool for your WMC 2014 Preparations. Enjoy !
http://www.beatport.com/release/ash-to-ash-ep/1253194
FEEDBACKS
Richie Hawtin – downloaded for r hawtin
Eddie Halliwell – passing on to eddie
Dubfire – Downloaded for Dubfire by Ronald
Tom Hades – Ash To Ash is a solid one ! 🙂 thx !
Axel Karakasis – great tracks!! support
Elio Riso – very nice, support
Ricardo Garduno – NIce ep, always solid!
Gabriel Ben – cool tracks. will play for sure!
Andy Slate – Blazed Mozzie is hot !!!
Gennaro Le Fosse – Nice EP! Support!
Phil Soren – Thx for this promo
Microvibez – Blazed Mozzie for me 🙂 Thanks again
Roman Finansi – Blazed Mozzie is nice!!!