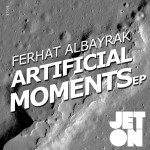 The eighty fourth release of Jeton Records, originally based in Istanbul and with a branch in Berlin, owned and managed by Turkish Techno Player Ferhat Albayrak, presents Artificial Moments EP.
Name Track of the EP, Artificial Moments is another peak-time tool from Ferhat. Features a big sawy main lead all over the track, while a driving bass-line and wide-open fx based last notes form the over all harmonics, as usual razor shaped drums and percs are the shinning elements.
Espace Noir takes a dark note to a relatively happy mode, by opening the main filter in about 1 min. time, almost 32 bars. Really catchy main melody and accompanied by a effective harmony, the low-mids of the track are quite full. Always a big kick and bright drums are essential for a Ferhat track so this time again it is no exception.
Ferhat Albayrak Artificial Moments EP would fulfill your melodic and harmonic needs, in the lands of Techno. Enjoy !
FEEDBACKS
Ascon – great!
Censer – Good Stuff, Ferhat! My Full Support
Giorgio Rusconi – Niceeee!
Paco Osuna – Will try thanks
Richie Hawtin – downloaded for r hawtin
Romanolito – Espace Noir My Favourite,Good Track