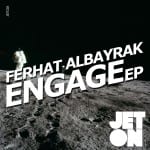 The twenty eighth release of Jeton Records, originally based in Istanbul and with a branch in Berlin, owned and managed by Turkish Techno Player Ferhat Albayrak, presents Engage EP.
The Name Track of the EP, Engage, is a floorfiller, decent Techno Product, which features a driving 80s Style Bassline, surrounded by a dark atmosphere fxs and military style speeches ! Quite interesting and a very driving track.
Second Track Funktion, is one of the most bottom heavy tracks of Ferhat, concentrating highly on low frequencies and Detroit Style Pads and 909 percussions.
Last Track Worked Out is the grooviest track of the EP, with basic drum kit and toms, it is work-out that how a track can be so simple while being so groovy.
Ferhat Albayrak – Engage EP will be a nice tool for your Techno Sets by providing different styles of the genre. Enjoy !
https://www.beatport.com/en-US/html/content/release/detail/836201
FEEDBACKS
Paul Van Dyk – Thanks
Paco Osuna – thank u 🙂
Luigi Madonna – great
Monocraft – Funktion is cool
Gabriel Ben – Funktion for me! nice one
Ricardo Garduno – Very solid Release by Ferhat! Big Support! Thanks!
Davy Dee – I'll play Funktion
Dean Facer – All three tracks are solid mate, but Funktion"
Phil Soren – that's great ! Thanks
Roel Salemink – Great Jeton release. Jeton is going hard these days!! Funktion is my favourite track on this EP
Julius Geluk – Funktion is my favo : very driving and hypnotising, awesome EP Ferhat!
Roman Finansi – Funktion really rocks my world !
Todd Burns – Editor in Chief RA – Thanks! Downloading.
Dimitri Kechagias – Jeton records is supported by the elite of techno music worlwide because of their open mindness to release tracks that can stand in wide variety of genres. Its techno that tech house, deep house, techno and even deep trance djs can easily use in their dj sets. Engage its quite minitech and groovy to the core with spacey chillin freezin effects adding dramatic overtones and making it perfect for techno and tech house djs. Sweet and simple is techno for the heart. Funktion is so melodic with driving basslines, tribal percussion and overall a very nice floating feel to it. Worked out is playful breaks like track that is simple and beautiful. Really simple sounding but dangerously addictive. Not to be missed review link: http://fluxbpmonthemove.blogspot.com/2011/11/reviewferhat-albayrak-engage-ep-out-on.html thanks