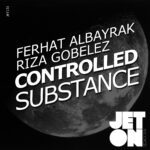 The 131th release of Jeton Records, originally based in Istanbul, owned and managed by Turkish Techno Player Ferhat Albayrak, welcomes Ferhat Albayrak & Riza Gobelez with Controlled Substance EP.
Jeton's Young and talented regular Riza Gobelez and label head Ferhat Albayrak's fourth collaboration promises nothing but irregular beats while maintaining the current school of Techno Language.
The 3-trakker EP name track Controlled Substance is a pady and synthy work of bold memories and feelings, a sad and at the same time a driving dark track. It has been tested for a long time and the reaction of the crowd was always great.
Collapse, second and third tracks are consisted of 1 track, 2 different versions, but very separate compositions. First one is more deep and hypnotic, second one is more energic and eclectic.
Ferhat Albayrak & Riza Gobelez Controlled Substance EP will compensate your paddy needs, on your streams and live sets. Enjoy!
#StayHome #StaySafe
Available From Stores
Worldwide – July 5th 2020
FEEDBACKS
Atesh K. – Downloading. Thanks
Burakcan Yilmaz – Full support
Carmello Ponente – The First Version of Collapse for me, dig it ! Thx
COMMA Group – thanks for sharing!
Eme Kulhnek – Great EP! Love this !!
Greg Gow – Collapse second version is my jam will play
Horatio – banger
Ilario Alicante – Downloading for Ilario Alicante, thanks for the music!
Joseph Capriati – downloading for joseph capriati, thanks !
Lasawers – hell yeah thanks
Levent Lodos – Thanks!
Mertens – 2nd version – just a perfect groove.
Paco Osuna – Will try thanks
Richie Hawtin – downloaded for r hawtin
Stiv Hey – HEY is downloading, thanks for the music!
Vinicius Honorio – Collapse 1st version is a hurter! Thanks for the promo.