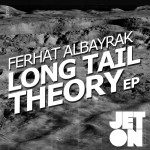 The fifty ninth release of Jeton Records, originally based in Istanbul and with a branch in Berlin, owned and managed by Turkish Techno Player Ferhat Albayrak, presents Long Tail Theory EP.
It is not easy to catch the melody or implement to an 4/4 powerful and driving Techno tracks. Ferhat is always trying to break the metaphor. Long Tail Theory is no exception. While maintaining a sub-bass suicide lows and kicks, a traffic equivalent to an peak-timer, the real difference of this track lies on melodies. Both bass-line melody and main melody differentiate the track and the drop makes it exceptional. A real must-try peak-timer candidate.
Second Track Hitting The Wall, is like a limiter trying to break the condensators and getting pushed by frequencies. This track again reflects the trademark sound of Ferhat, which is always bottom heavy and purpose made for dance-floor.
Ferhat Albayrak – Long Tail Theory EP tracks could be your next track in a festival for a bass-hungry 4 digit crowd. Enjoy !
http://www.beatport.com/release/long-tail-theory-ep/1328946
FEEDBACKS
Marco Bailey – Thanks Mate !
Nicole Moudaber – nice one
Sam Paganini – Nice! Hitting The Wall my fav
Axel Karakasis – great tracks!!
Daryl Stay – Hitting The Wall is great. Will play. Thanks for sending.
Anthony Pappa – "Best track here is Long Tail Theory"". Thanks."""
Steve Mulder – Hitting The Wall is awesome!
Gabriel Ben – cool tracks ferhat. will play.
Dandi & Ugo (Italo Business) – cool techno beats
Peja – Long Tail Theory for me
Bageera – Great ep again from Jeton
Joy Fagnani – ") thx"