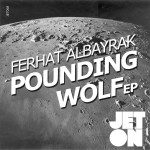 The sixty eight release of Jeton Records, originally based in Istanbul and with a branch in Berlin, owned and managed by Turkish Techno Player Ferhat Albayrak, presents Pounding Wolf EP.
Pounding Wolf has been hammered by Carl Cox for over eight months in the best clubs & festivals in the world and the reactions are breathtaking. It is a track of super kick, we mean really a big kick is the hook of the track. The drop features a robotic FX and built-up and then the rise continues with a huge snare, remaindering a wolf's sound.
No More Gamble has a twin-hook all over the track, also a atmosphere built reverbed helping the over all ambiance of the track. The snare is very distinctive and time-stretched claps gives a different slice of taste for drum making.
Ferhat Albayrak – Pounding Wolf EP contains of 2 very powerful dance-floor weapon, suitable for all kind of peak-time usage. Enjoy !
FEEDBACKS
Axel Karakasis – downloading, thanks!!
Chris Count – really cool tracks! full support!
Chris Rusu – No More Gamble for me thanks!
Claude Vonstroke – Downloading for Claude VonStroke
Davy Dee – No More Gamble ! Thanks Bro !
Giorgio Rusconi – Very Nice ep ! Support!
Greg Gow – No more gamble will be playing thx
Paco Osuna – Will try thanks
Phil Soren – Thx for this promo
Richie Hawtin – downloaded for r hawtin
Stanny Franssen – I'll try 'No more Gamble'
Tom Hades – No More for me ! good one ! thx !
Tomy De Clerque – fantastic EP … good job …