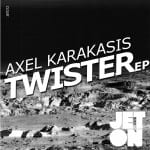 The seventy second release of Jeton Records, originally based in Istanbul and with a branch in Berlin, owned and managed by Turkish Techno Player Ferhat Albayrak, welcomes once more Axel Karakasis with his Twister EP.
Our fella Axel Karakasis brings again his wonderful drum beats to the other side of Aegean Sea for united Techno Melodies.
The Name Track of the EP, Twister combines bold kicks and low bass-line, really sharp drums and polished percussions and a very solid hook synth. Snares are always up-front for solid groove and bassline is always side-chained with kick for best pumping effect. Reverbed and delayed main hook will get you to the climax.
Ferhat Albayrak Remix of Twister combines two layers of synth work with the same pattern, heavily pan-worked and of course super heavy lows as Ferhat likes most. The overall groove is not very familiar with the original but makes you moving instantly.
Last Track Regulate features less complex drums than other tracks of the EP but it makes you dance at the same level. Chopped vocals and filtered atmosphere glue the track elements nicely and wonderful traffic fits your DJ mixing habits.
Axel Karakasis – Twister EP features very powerful tools by combining two shores of Aegean Sea in order to form Greek/Turkish Dancing Beats ! Enjoy !
FEEDBACKS
Chris Count – cool groovin EP!
Claude Vonstroke – Downloading for Claude VonStroke
Daryl Stay – Like Regulate. Will play.
Gabriel Ben – good tune, will play
Greg Gow – Twister for me thx
Gregor Tresher – Good stuff again! Will play!
Iain Kirk (Death Techno) – Ferhat brings a cool rendition on the rework. Thanks!
Marco Bailey – Many thanks!
Paco Osuna – Will try thanks
Paul Van Dyk – This promo is not for me thanks
Phil Soren – Thx for this promo
Richie Hawtin – downloaded for r hawtin
Stanny Franssen – I'll try Twister incl. rmx the remix
Steve Mulder – Twister original for me!