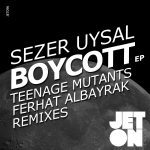 The ninety sixth release of Jeton Records, originally based in Istanbul and with a branch in Berlin, owned and managed by Turkish Techno Player Ferhat Albayrak, welcomes Sezer Uysal Debut Boycott EP with Teenage Mutants & Ferhat Albayrak Remixes.
We warmly welcome our Turkish fella Sezer Uysal, who is one of the few Turkish Outputs in the electronic music scene but who succeed to secure releases on respected labels like Suara, Elevate, Click Records and many more. Two amazing remixes are coming from German Hot Duo Teenage Mutants, a solid Stil Vor Talent protege, Suara and Katermukke artists who are known for strong groove lines and from labelhead Ferhat Albayrak.
Original Mix is a trademark sound of Sezer Uysal, who is known for complex melodic constructions with heavily use of arpeggiator. Very solid bassline forms the buttom-end, an amazing chord work accompanies the main melody and an huge drop/rise makes the last move.
Teenage Mutants transforms the track completely. A bouncing bass drives the groove, low atmos, perc based fxs and transposed chopped vocals change the overall environment from up to dark. Main synth plays with velocity on drop and acts like a hook all track long.
Ferhat Albayrak puts not so many elements to his remix, takes only the first part of the main melody and fulfilled the whole frequencies with bass. Definitely groovy and powerful at the same time, a nice alternative to the package.
Sezer Uysal – Boycott EP targets your tracklistings and promises the cutting edge sound available with every its mixes. Enjoy!
FEEDBACKS
Affani – Great Remix!
Alexander Filimonov [Kiss FM Ukraine] – Thanks, will support!
Axel Karakasis – downloading, thanks!!
Censer – Great stuff! Thanks for respond.
COMMA Group – thanks for sharing!
Darin Epsilon – Great remix work by Teenage Mutants. Sounds like a completely new track : )
Dean Facer – Lovely release !!
Gforty – Big tune! full support, thanks
Giorgio Rusconi – Super ep !!
Horatio – cool ep
Joy Fagnani – Boycott Original for me! Cool one!
Luigi Madonna – Thanks for the music
Paco Osuna – Will try thanks
Phil Soren – Thx for promo
Richie Hawtin – downloaded for r hawtin