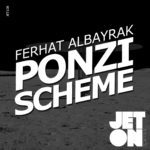 Launching in 2009, Jeton Records is run by Ferhat Albayrak who is one of the leading
techno artists based in Istanbul, Turkey. It has a back catalogue of tracks that lists artists such as Lützenkirchen, Tom Hades, Jon Rundell, Marco Bailey and Hans
Bouffmyhre amongst others.
The latest release comes from label boss Ferhat Albayrak, who not only is a regular event planner in his hometown featuring line-ups including Slam, Len Faki, Sam Paganini and Christian Smith, but has also had his music appear on the likes of Tronic Music and Intec Digital, whilst being continuously supported by Carl Cox and Richie Hawtin.
Expect to hear spaced out, rolling, techno grooves that are bursting with energy and tension, finished off with melodic chord stabs and deep electronic influences.
FEEDBACKS
Arjun Vagale – Maslak is cool
Audiomatiques – "Downloading for Audiomatiques !
Full support and thanks for the music !"
Boxia – Great synth work in Ponzi, supurb release
Carl Bee – "Very Good EP !!
Thank You .. both tracks are great !"
Carl Craig – dl 4 c2 thx!
Cristian Varela – good1!
D-Deck – Maslak is my pick thanks
D'Jamency – "solid techno EP, thxx !
D'Jamency (Remain, Natura Viva, Reload, Patterns)"
Daz Furey (FNOOB Techno Radio owner) – Beatz….
Drumcomplex – yeah festival sound like it
Drunken Kong – Maslak is cool. Thank you for the music!
Forest People / Olēka – support
Fractious – Cool work here!
Gaston Zani – Dope tracks!
Heron – Cool
Hollen – Maslak for me 🙂
Hristian Stojanowski – Both tracks are truly awesome! Thank you…
Human Life – thanks
Its All Techno™ (Podcast) – love both tracks thank you!
Joseph Capriati – downloading for joseph capriati, thanks !
Juan Ddd – Nice tools here, thanks for the music!
Kaiserdisco – Sounds good, will try it out LOUD. Thx
Karotte – this time nothing to play for me.
Laurent N. (House Nation on Nice Radio FM / Electronic Lands on Squaresound Radio) – "2 good tracks for me.
SUPPORT !"
Lerio Corrado – "Maslak is interesting 🙂
Thank you"
Loco & Jam – Really liking Maslak! Great stuff from Ferhat
Lorenzo al Dino (Compilation Licencing – Jockey Club Ibiza) – kicking.
Luigi Madonna – Thanks for the music.
Maceo Plex / Maetrik – Downloaded for Maceo Plex, thanks for the music!
Marco Bailey – support mate …
Mark Greene – Mask is very nice!!
Markantonio – Downloading for Markantonio…thanks for the music !
Oliver Lieb – Maslak for me!
Optimuss – Very well . Thanks
Paco Osuna – Will try thanks 😉
Psycatron – Paul Hamill – Ponzi Scheme is massive
Radio Topo 101.8 FM / [ES] Elektrokrazia (online) – Editor – Great stuff !!!! Thanks !!!!
Ramiro Lopez – cool stuff! thx
Richie Hawtin / Plastikman – downloaded for r hawtin
Rob Zile (Brain Food on Kiss FM Australia) – great tracks!
Sezer Uysal – Ponzi Scheme is greaat track !! thanks
Shelley Johannson – Liking the emotions in 'Ponzi Scheme' and good drive in 'Maslak' Thanks for sending.
Slam – Thanx
Spartaque – Cool EP!
Spektre (Paul Maddox) – Cool tracks
Steve Parry (Selador Sessions on Frisky Radio) – solid stuff