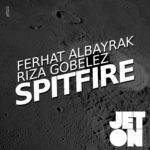 The one hundred and twenty-second release of Jeton Records, originally based in Istanbul, owned and managed by Turkish Techno Player Ferhat Albayrak, welcomes Ferhat Albayrak & Riza Gobelez with Spitfire EP.
Jeton's Young and talented regular Riza Gobelez and label head Ferhat Albayrak's third collaboration promises nothing but irregular beats while maintaining the current school of Techno Language.
The 2-trakker EP first track Spitfire is a polyphonic work surrounded by vintage synths, while the second track The Moon is a complete out-of-box track featured and heavily influenced by blockbuster movie scores. Both tracks have been road-tested heavily and the feedback of the crowd is massive.
Ferhat Albayrak & Riza Gobelez Spitfire EP will supply your all kind of needs. Enjoy!
Feedbacks
Carmello Ponente – Spitfire for me !
chris collins – Spitfire is amazing, very hypnotic and very cool
Chris Liebing – Thanks!
Eme Kulhnek – NICE ! THANKS
Eric Powell – solid
Greg Gow – dope track! Spitfire for me
Horatio – total banger
Ilario Alicante – Downloading for Ilario Alicante, thanks for the music!
Joseph Capriati (Drumcode) – downloading for joseph capriati, thanks !
Kuvoka – BOMBS!
Lasawers – what a sound thanks for the music
LWJR aka Kerem Yucel – great EP!
Marco Carola (Minus / Plus 8) – downloading for Marco Carola, thanks
Markantonio – Downloading for Markantonio…thanks for the music !
Onionz – Hot.
Paco Osuna – Will try thanks
Richie Hawtin – downloaded for r hawtin
Slam (Soma / Paragraph) – Thanks
Spartaque – Cool ep! Will play
Stiv Hey – HEY is downloading, thanks for the music!