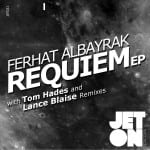 The thirty firsth release of Jeton Records, originally based in Istanbul and with a branch in Berlin, owned and managed by Turkish Techno Player Ferhat Albayrak, presents Requiem EP, includes remixes from Tom Hades and Lance Blaise.
Ferhat Albayrak finished this track app. 1 year ago and played almost in all of his gigs in 2011, having huge feedback from the crowd. Also Carl Cox played The Original Mix all summer long in Space Ibiza and reactions were incredible.
The Original Mix from Ferhat Albayrak is nothing but a 4/4 drum loop with ultra-low bass-line and a tight kick combination, spiced-up with Turkish Instruments percussions and side effects but most importantly a traditional man vocal which is making a real Requiem.
Tom Hades, who is the man on fire in Techno Scene right now with his superb works and his respected Rhythm Convert(ed) Label, transforms the original mix to a floor-filler. Typical Tom's Sound, full-range carefully produced and a detailed work on highs and mids, with nice break-down and a perfect rise, this is the remix of Main Room you are looking for.
When you log onto Teggno Records Label Head Lance Blaise's web site, it says "Dark Experimental Techno" which totally what you get on his remix. A dark vocal looped all over the track, freak fx-work and carefully selected kicks, this remix completes the package perfectly.
Ferhat Albayrak Requiem EP is a conclusion of a long-time hard work and with respected real Techno Artists of the scene, will feed your all kind of sets. Enjoy !
http://www.beatport.com/release/requiem-ep/872400
FEEDBACKS
Roger Sanchez – will try out thanks
Luigi Madonna – tom hades rmx. for me!
Angel Costa – Will try!
Alexi Delano – Support!!
Loco & Jam – Loving All 3 tracks here! Tom's Mix best fits our sets tho! Support
Gabriel Ben – Lance mix is dope. Tom did a good job as well. Good EP
Davy Dee – Tom Hades Remix for me !!!
Gennaro Le Fosse – support!
Dean Facer – Many thaks Ferhat for yet another mighty release on Jeton….. Really loving Tom's mix but all are being used !!"
Luke Creed – Thanks, support for lance blaise remix.. evil
Ricardo Garduno – Great release! love all the tracks! will play them for sure Thanks!
Peja – Awesome mix from Tom Hades,thank you!
Microvibez – Tom Hades Remix for me…Thanks!
Roman Finansi – Tom Hades remix is for me! Thnx!